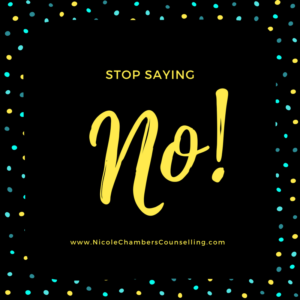 Just imagine you are cooking dinner for your family.  Veggies steaming, chicken in the oven and you're peeling the potatoes to make your families favorite mashed potatoes.  And your 4 year old comes in to the kitchen and says "Can I have a cookie?" How do you respond?  I mean, of course he can't have a coookie! Can't he see your cooking dinner!  Can't he see how hard you're working? He NEVER gets a cookie before dinner so who would he even ask?!?
Take and breath and respond with YES….
You read that right, I said yes. But hold on…. Keep reading. Try the sentence "Yes you can have a cookie…After dinner".
When you say no to your child over and over, it loses it's importance. When you say yes, it not not pit you against your child and they hear that their request is important.
Sounds simple right. What about when they are a teenager and want to borrow your car? You have choices.
"Yes you can borrow the car tomorrow"
"yes you can borrow the car, don't forget to put gas in it"
"Yes you can borrow the car when you _______ and show me you are responsible"
"Yes you can borrow the car, after you__________"
This simple change in language likely will enhance your relationship with your little one providing less argumentative conversations and more connection.
About the Author
Nicole Chambers is a local Maple Ridge Counsellor and has over 15 years experience  working with children from age 6 weeks+. She is also a trained birth & postpartum Doula, Childbirth Educator and Placenta Encapsulation Specialist and Early Childhood Educator specializing in prenatal anxiety and loss.   She's trained in Nobody's Perfect parenting, Hand in Hand Parenting, Expressive Play Therapy and continues to take courses on child development, trauma, birth and adolescence.