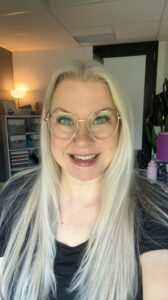 Nicole is a proud member of The Association of Cooperative Counselling Therapists of Canada and holds a Registered Therapeutic Counselling designation. She focuses primarily on Children/youth, Parenting and Pregnancy-related concerns. This included (but is not limited to) pre-postnatal mental health, pregnancy & childbirth concerns or fears, and parenting. Nicole has over 20 years of experience working with children and parents in a magnitude of roles. She is rooted in working with  Pregnancy and Parenting. In her studies to become a Therapeutic Counsellor, Nicole has additional training in pre/postnatal mental health and pregnancy and infant loss.  Nicole holds additional training in Early Childhood Education, Nobody's Perfect Parenting, Hand in Hand Parenting, Expressive Play Therapy and focuses on peaceful parenting with a solution-focused philosophy.
Over the last 12 years, Nicole has taught over 500 parenting-related classes and groups, designed numerous programs, and been asked to speak at ECEBC,  high schools, parenting educators in Ridge Meadows, and presented at Professional Development Days for teachers of SD42.  She continuously building her skill set and is a trained Birth & Postpartum Doula as well as Childbirth Educator, pregnancy is field Nicole is an expert in.
Nicole has been married for over 17 years and works hard at being a mother to her spirited 13 year old daughter. When Nicole is not working she can be found gardening, hiking, playing volleyball and sipping coffee in the sun.